Black Friday: 7 Marketing Strategies to increase your Sales
Black Friday marks the beginning of the Christmas shopping period. This sales event, which is held the day after Thanksgiving, has now been adopted by many countries all over the world and is much anticipated by consumers who are eager to save when buying gifts.
Black Friday is not just for big businesses, it is currently the yearly event with the highest exponential growth in the world and your company should not be left on the sidelines.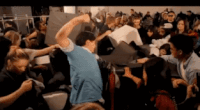 Let's explore some marketing guidelines that will enable you to keep up with this widely-known market trend.
#1. Generate Anticipation.
Use Instagram stories to showcase how your company is preparing for the event. Show behind-the-scenes preparations for the upcoming sales promotions.
#2.. Persuade, Insist!.
If you want to generate sales your clients first have to remember you. Use remarketing to let them know what you are offering ahead of time. Insist if you want to be chosen. Bombard them with eye-catching messages for 2 to 3 days. Remember that Black Friday sales are usually made to loyal customers.
# 3. Ambassadors
Encourage your followers to like and share your content. A good option is to host a giveaway with all those who have shared your content on their social media network; this way you are not only generating loyalty, but also attracting new clientele.
Improve your marketing strategy with these tips:
Marketing for Business: Instagram Stories
# 4. Generate loyalty among your customers
Offer your VIP customers early access to discounts one or two weeks in advance. This can encourage more people to join this exclusive group and it can continue to generate loyalty among your existing clientele.
A good tool is to offer discount coupons to those in your Premium database.
#5. Be Creative
Get creative in order to attract more customers. The most commonly offered promotions are the 2 for 1 deals or the 40% off discounts and they are effective, but in this competitive world you have to stand out. There are a lot of competitors out there offering the same incentives as you. Use stunning photos and messages to avoid being overlooked.
#6. Generate brand engagement
One option for securing a loyal customer base is for them to be able to buy at bargain prices and additionally receive a discount coupon for their next purchase. Think long-term. We want to ensure that our clients keep on buying from us even after this event is finished. You want to retain all the new customers that you have added to your client base on Black Friday.
# 7. Let your customers know what is coming
Use an email marketing campaign to spread the word about what will be happening on Black Friday. Begin the campaign one or two days before the event to generate anticipation. Focus on the essential information, keep it simple and use big bold writing.
I hope that this information can you help with what is coming! Good luck and much success with your Black Friday promotions!